South East University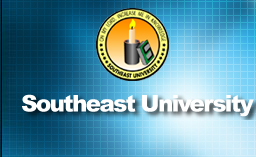 Southeast University is committed to creating a knowledge-based society. In cognizance of the need and value of higher education to build a happy and prosperous Bangladesh, a group of dedicated educationists and enthusiasts discussed the prospects of establishing a private university that would uphold the torch of knowledge and would pursue quality education in a quiet, trouble-free and congenial academic environment. Ultimately a university named "Southeast University (SEU)" came into being which started its journey in the month of June 2002 as a private university under the 'Private University Act 1992'. The Honorable President of the People's Republic of Bangladesh is the Chancellor of SEU. From the very beginning SEU has been following the policy of not treating education as a commercial product, and is firmly committed to serving the society without having any commercial motive whatsoever. Establishment of SEU was a visionary decision in the face of ever increasing demand for providing quality education at an affordable cost in Bangladesh. With the phenomenal growth in enrolment coupled with quality of education, SEU is now comparable with the best universities in Bangladesh and abroad.
Vision
The vision of Southeast University (SEU) is to flourish as a prestigious seat of learning in the South Asian region. As a center of excellence, it aims at attracting students from all countries of the region.
Mission
The mission of SEU is to provide higher education at an affordable cost, keeping in view the challenges of the twenty-first century. And this mission will be achieved by imparting world class education and providing self-development opportunities so that the students can attain their full intellectual, social and personal potentials. SEU is committed to developing human capital by cultivating creative thinking in individuals. It customizes education to cater the needs of different groups of people of our society.
Goal and Scope
The goal of the University is to provide excellent modern education for students with a view to equipping them with the skill and knowledge necessary to lead the country in its quest for development. Along with this, the University also aims at producing students of high moral standard. Southeast University (SEU) has the authority, under its charter, to provide instruction to confer Undergraduate and Postgraduate degrees. It has plans to offer M.Phil. and PhD programs in all branches of higher studies including business, engineering, agriculture, language, law and medical sciences. It also has the authority to grant diplomas, certificates and other academic distinctions and to open new Schools of studies and new institutes on its own campus. The University is run by a number of statutory bodies as required under the provisions of the Private University Act, 1992.